If you have upgraded using the two trim button method, your bootloader itself is not upgraded yet. If your want to keep that one up to date, you just need to "activate" it. It is already on your transmitter.
Go to your Home screen,and long press "ENTER" to get into the radio setup menu.

Press "Page" until you are at the SDCard page

Scroll down to the "FIRMWARES" folder, and select it to access it

Select the firmware which contains the bootloader you want to activate (you can use a bootloader from OpenTX 2.0 and still have the OpenTX 2.1 as firmware. It are two seperate things) and click "ENTER"

when it asks you to flash the bootloader, press "ENTER".
Have fun and 
Just Fly!
If you have bought your Transmitter some time ago, and you never did an upgrade to OpenTX, chances are that your bootloader didn't come with the firmware management screen. So if nothing happens when you switch on the transmitter while pushing the trim buttons for rudder and ailerons towards each other, you need to use this upgrade procedure:
After downloading the firmware installation software, run the setup file "DfuSe_Demo_V3.0.3_Setup.exe".
After installation, you will have an entry in your start menu (in some windows versions it is on newly installed apps), where you can start the "DfuSe demonstration" application.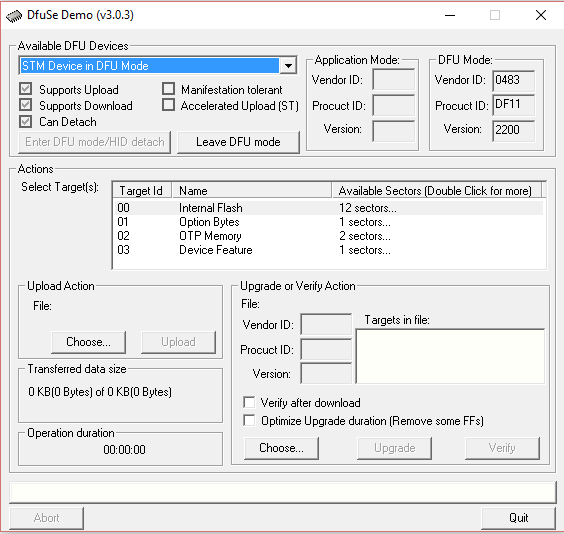 After you started this program, connect your transmitter while it is off with a mini usb connector. Now it wil detect your tranmitter, and you can start the upload from the existing firmware from the transmitter to your PC. This step is important, in order to have a backup to be able to return to the original state.
Click "Choose..." in the "Upload Action" section, and it will ask you for a file name and location for your backup. Just give it your name, like I did for "Neil", "Mike", etc.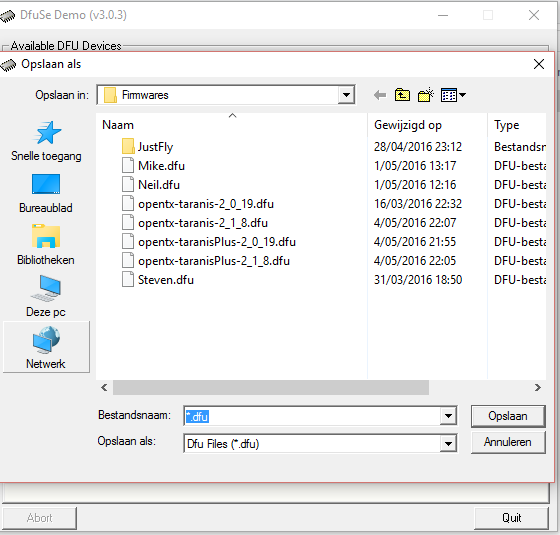 After selecting "Save", you are ready to upload. Click on the "Upload" button, which isn't greyed-out anymore, and the upload wil start.
It will pop up with a warning message, click OK, and a copy of the firmware on your transmitter will be transferred to your PC.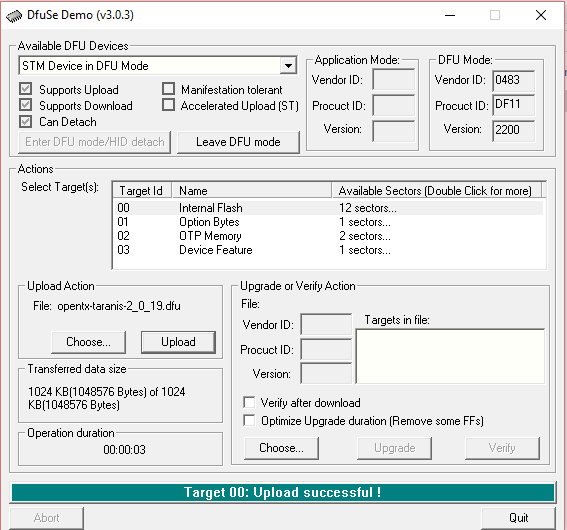 Now you are ready to download the new OpenTX firmware to your Transmitter. Go to the Download section of the app, and select a file for the download. There are several files that came with any JustFly package, all with the extension .dfu. Make sure you select a plus version if you have the Taranis PLUS.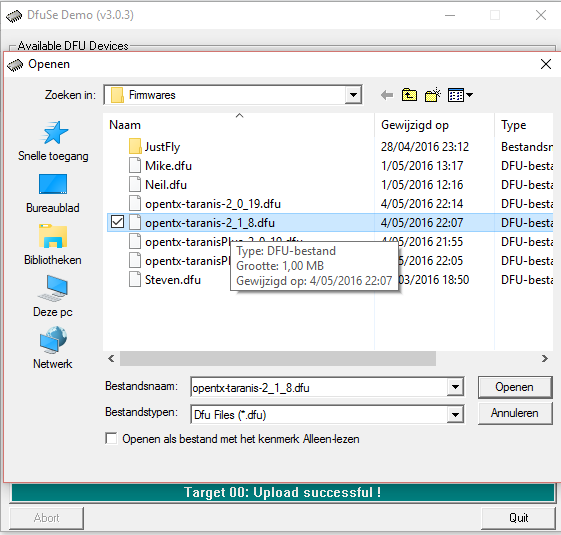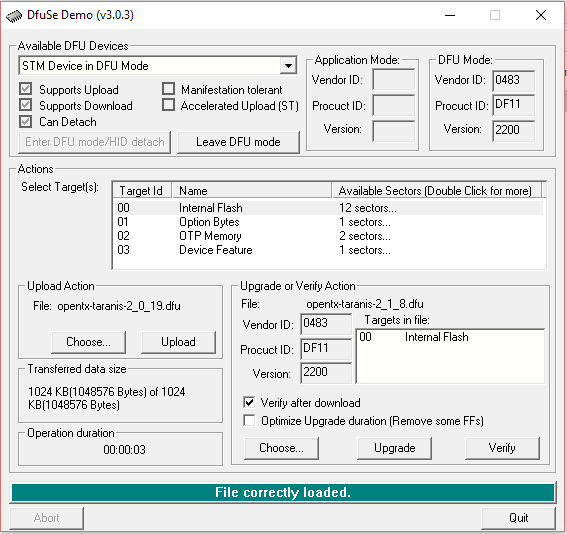 Now check the verify button, and click on "Upgrade".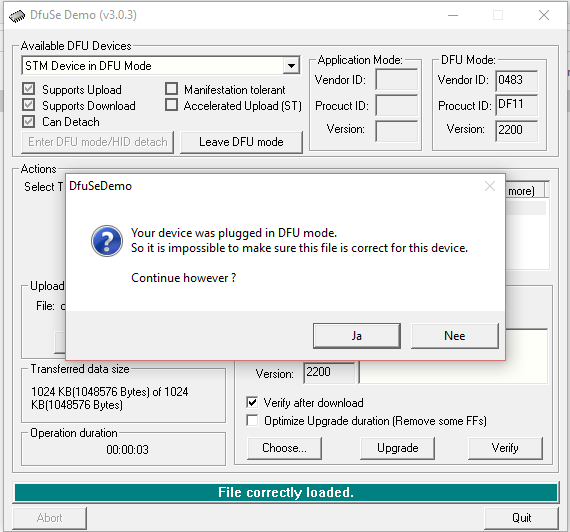 A warning will pop up, and after selecting OK, the new firmware will be downloaded to your device.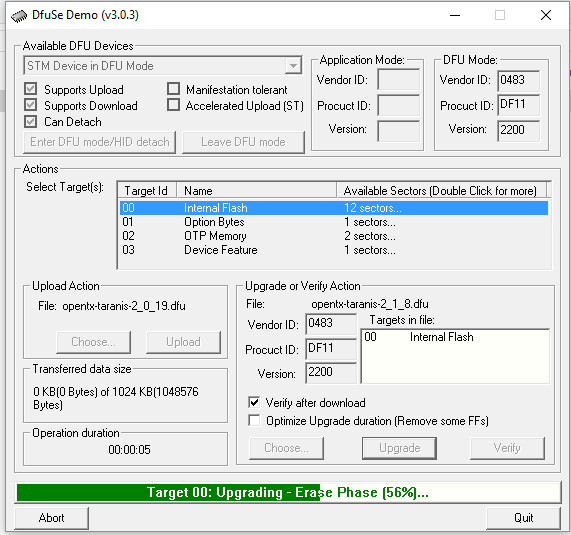 After a short time, 30 seconds or so, it will finish the upgrade.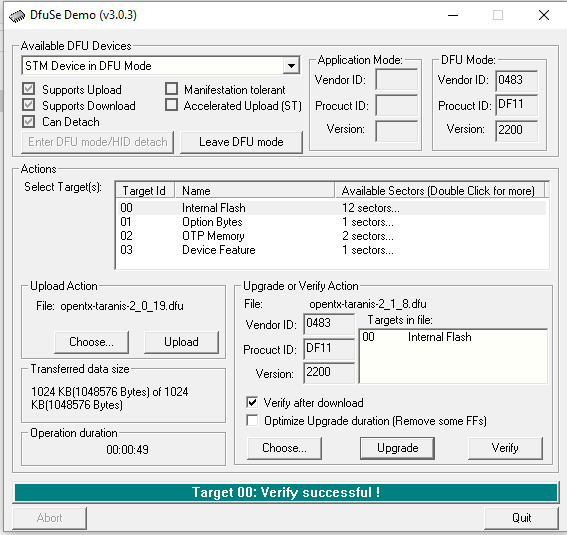 That's it. Your transmitter is upgraded to OpenTX 2.0, and all your models are still there. from now on you can use the simple firmware upgrade procedures, as posted on this site. 
If you want to upgrade it to 2.1, you first need to make a backup of your EEPROM.
Bonus: from now on you can access your SDCard from your computer using the mini-USB connector. Make sure your transmitter is ON when you plug the USB cable in. After a few seconds your PC will recognise your SDCards as a normal external storage device.
Ready to install al other nice stuff from this site.
Have fun and
Just Fly
Although the recommended way to update your firmware is by using companion, there are situations where you don't want to, or simply can't.
But first, make a backup of all your models, or a backup of your EEPROM.
Then, switch on the transmitter while pushing the trim buttons for rudder and ailerons towards each other.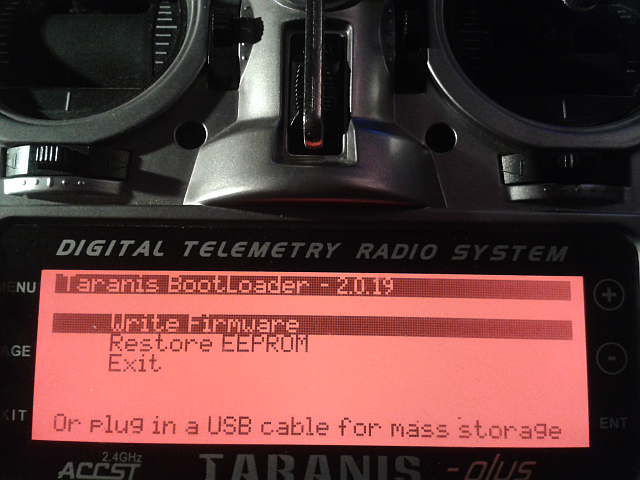 IF YOU DON'T GET THIS SCREEN, YOU NEED TO DO A FIRST TIME UPGRADE. First Time Upgrade
Select "Write Firmware".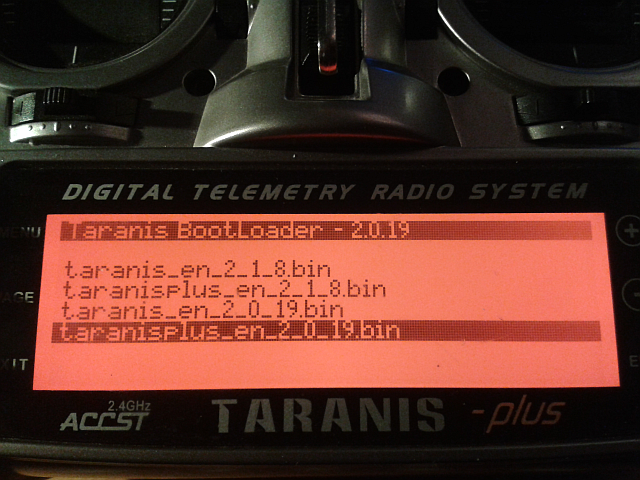 Select the appropriate file in the PopUp.
Please don't mix up the PLUS with the normal version. PLUS is clearly indicated on the lower right of your transmitter. If so, select the PLUS version.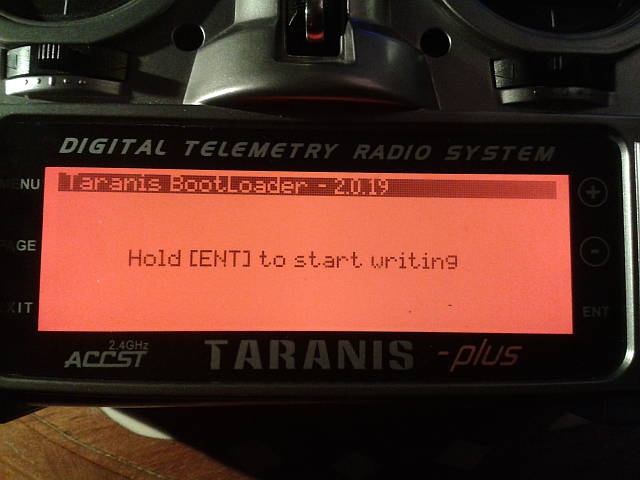 Press "ENT" to start the writing of the firmware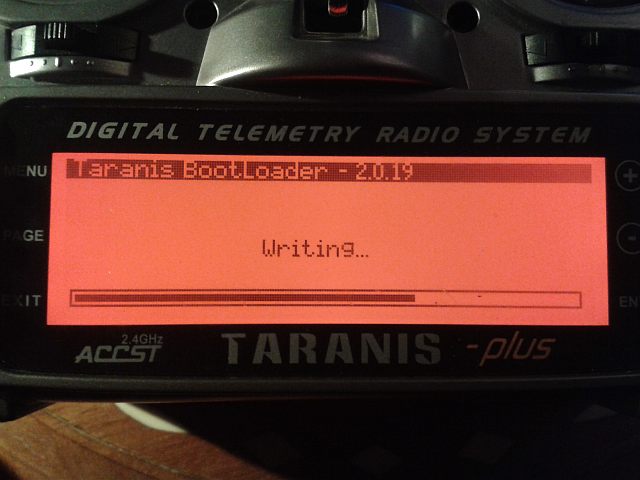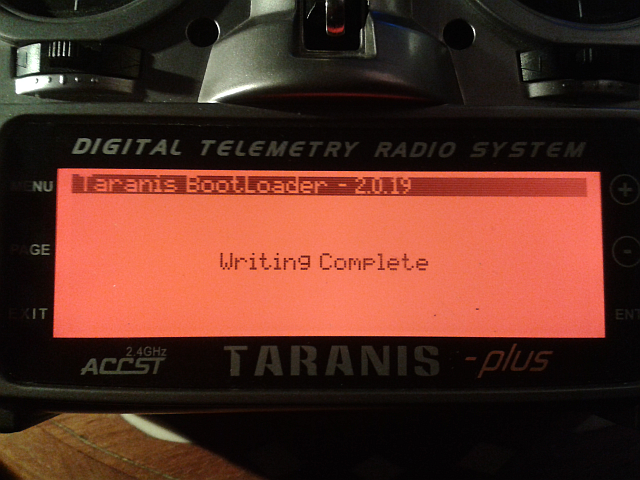 Ok, Suppose you have downgraded from 2.1 to 2.0. Then, you need to restore the EEPROM with your 2.0 models in it. Otherwise, you are done!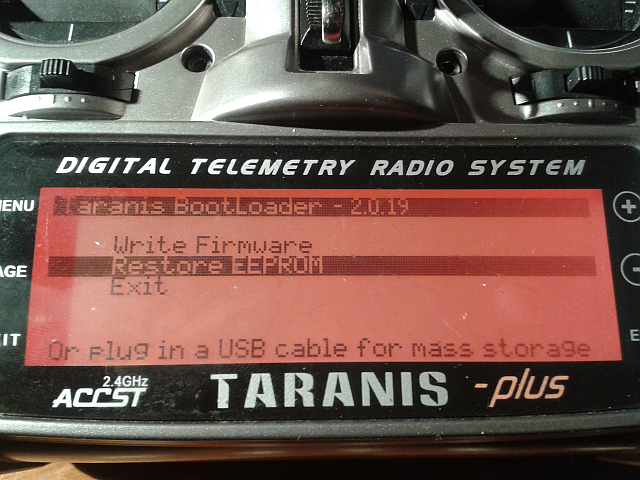 Select the Restore EEPROM option.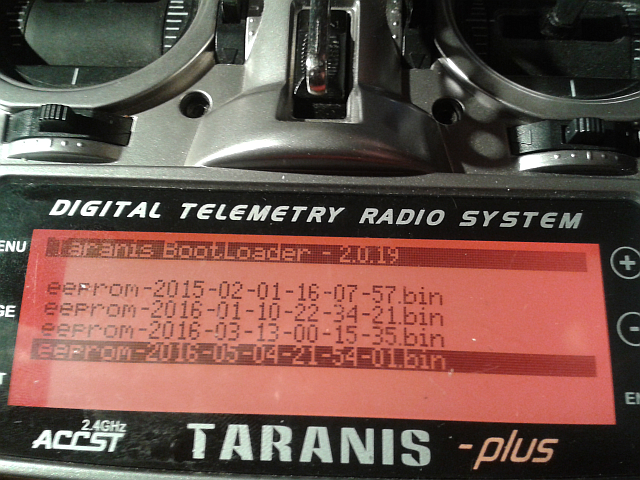 Seelct the proper EEPROM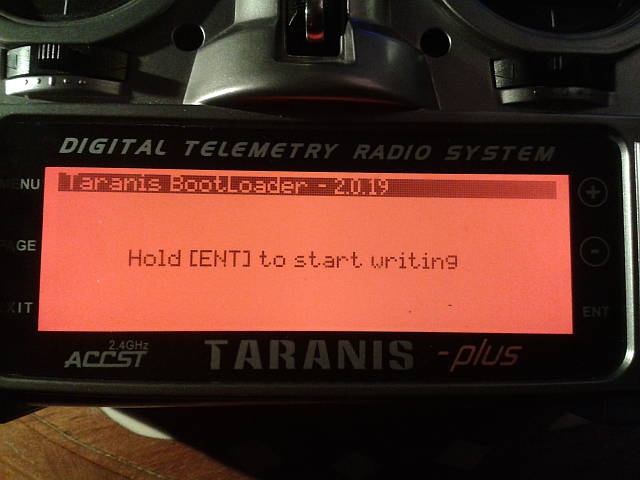 After selecting, it will ask you to long press "ENT" again to start writing.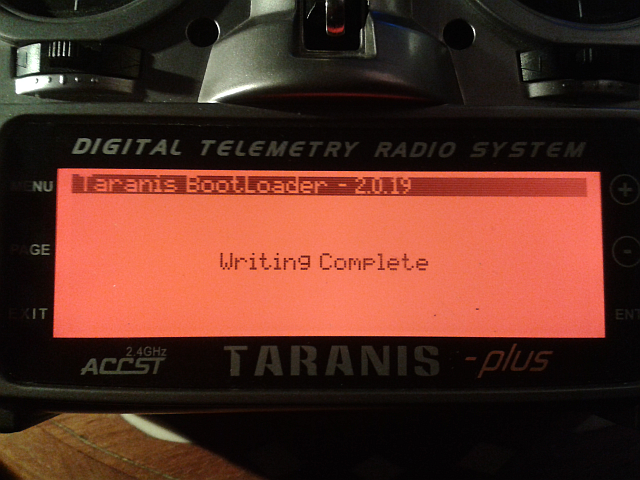 DONE!
P.S. The JustFly install packages contain the firmware, and when copied to the SDCard will allow a 'Taranis' type radio to run, without sound file support. For proper functioning, you need to install the SDCard content as provided by OpenTX. 
Have fun and
Just Fly