We are proud to present a world first: the FrSky X-lite JustFly edition. It is not an official FrSky edition, but an X-lite customized by JustFly.Solutions.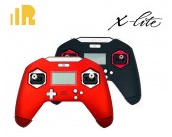 What do you get:
X-lite (red or black)
Adapted case to allow full range rotation top sliders (increased precision and tactile centering)
Left AND right long 3 position momentary switch (back side, pull spring, mid and push, ready for left and right hand DLG)
Left and right long 3 position switches (front side, normal)
Internal USB charger (led charging indication integrated in on_off button)
2040 maH batteries (Panasonic quality)
SDcard 16 GB (Kingston quality)
JustFly apps pre-installed (including OpenTX 2.2.3, EU and NON-EU firmware, bug fixes and updates)
Handstrap red & black (Secures battery caps at the same time)
Total price, excluding shipment: 240.00$ excl. VAT or 250.00€ incl. VAT.
It comes at a price, but we think it is worth it. For now we only take pre-orders, without guarantee to delivery, but also without obligation to buy. We ask a fee of 1.00 € registration, which will not be refunded if you do not convert your pre-order to an order. This is to ensure only serious pre-orders are taken.
To be completely transparent, we list here the components, and their separate retail prices at one of the popular re-sellers online shops for that component. You can make up for yourself if you want to pay the extra. More transparent we can't get.